Post by Jesse Morrell on Aug 14, 2008 12:06:50 GMT -5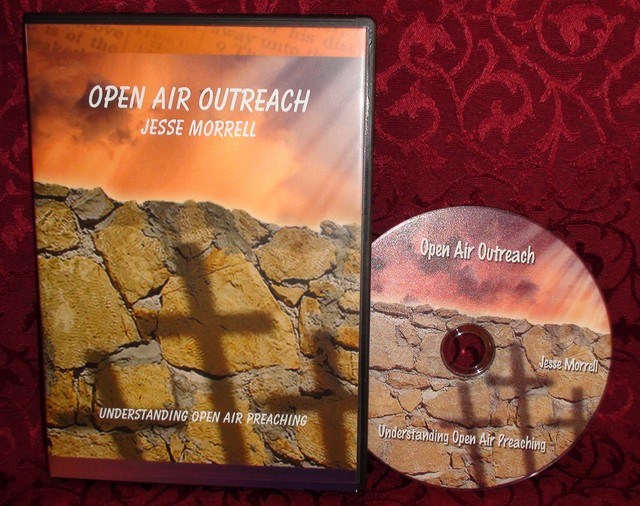 The prophets, apostles, and Jesus Christ Himself all presented the Gospel to the world through open air preaching. If the Church is going to accomplish the Great Commission, it will not be through the wisdom of this world with all of its modern methods, it will be through the wisdom of the ages, through the wisdom of God.
We are living in a time when darkness and sin is everywhere. Men and women of God need to learn how to rise up and confront the darkness with the light. We need bold men and women of God who will dare to stand against the culture, against the world, against the devil, taking a stand for the Lord Jesus Christ.
Through this DVD you will learn the basic information that you need in order to stop out into the public arena and do battle for the Kingdom of God. This teaching is designed to inspire and instruct the body of Christ. The purpose of this message is to encourage and educate Christians for the important task of soul winning. Learn about the heart, the concept, and the practicalities of public preaching as you watch this powerful message.
Cost:
$10 (includes shipping)

How to Order:
To place your order all you have to do is send your payment through paypal or mail it in an envelope to our address. Then send us an email with your shipping address information.
PayPal:
www.paypal.com/cgi-bin/webscr?cmd=_xclick&business=jessewm218%40hotmail%2ecom&no_shipping=2&no_note=1&tax=0&%20currency_code=USD&bn=PP%2dDonationsBF&charset=UTF%2d8

Physical Mail
: Jesse & Krista Morrell PO Box 9035 Fayetteville, NC 28311
Email
: Jesse@OpenAirOutreach.com